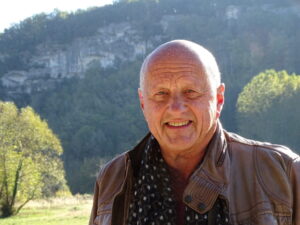 Giles Squire
Giles discovered the wonders of radio when he was just ten years old and started his broadcasting career as Britain's youngest radio DJ at the time at just sixteen. In 1974 he joined and helped launch Metro Radio in the North East. Since then he has worked for many large commercial radio groups and even consulted for BBC local radio. He is a fellow of the Radio Academy.
Rachel Orr
Rachel is a shoe queen and opera diva. (Lost count of how many pairs of shoes and boots I have but it's near 150!) She lives in the North East of England in the town home to Durham's International Cricket Ground. Rachel has a very eclectic taste in music across not only the decades but also the centuries. Rachel began singing from a very young age and is an established classical performer in the North East singing at The Sage Gateshead and Newcastle City Hall. Having spent 30 years as a teacher leading two schools as headteacher, Rachel now works for an education charity supporting teachers aspiring to leadership and also headship.
Rachel's hobbies include singing, reading, gardening, cooking (with wine), cricket, listening to the radio and buying the odd pair of shoes or two.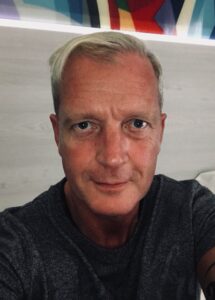 Alex Roland
Alex has spent his career in broadcast media, or misspent if truth be known, but he's had fun doing it. As a young jock/presenter in the early 90's, Alex was host of the evening show on the mighty Metro Radio in the Northeast. He then graduated to management and became Programme Director of no less than 7 radio stations in the UK, before following a secondary career as an agent in the music business to this day.
When not trying to be a successful Dad to two growing teenagers, he can be found on his mountain bike riding across the hills and dales of County Durham where he now lives.
Or, simply playing around in his home radio studio, still broadcasting here and there for any station that has the integrity to hire him and not enough good sense to know better.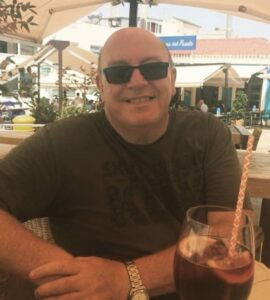 Keith Francis
Keith Francis started his career at the Decca Record Company as a recording engineer working for the London Records label. He also worked with Stanley Kubrick on the music for 'The Shining' (1980) and subsequently it's sequel, " Doctor Sleep" (2019). Keith also made music with Ray Charles and Bing Crosby!
Keith turned his hand to radio in the late eighties at Radio Avalon at the Glastonbury festival and was a breakfast presenter for Radio Caroline 558  on the North Sea.
Deciding dry land was for him Keith Francis has presented for GWRFM, Galaxy Radio, Severn Sound, RTL Country, Liberty Radio , as well as establishing stations in Cheltenham and High Wycombe. Keith has been a presenter and manager for the BBC since 2003.
He is free now and is producing podcasts for high profile clients.
Keith says, " My first love is music, and my mistress is radio! I can't wait to start every weekend for you on Real Life Radio. "
Fun Keith Fact: He was a Saturday boy selling toys at Hamleys in London's Regent Street in the late seventies!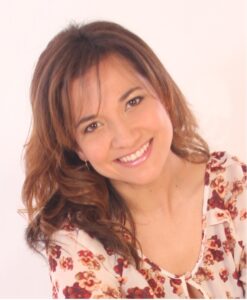 Sarah Booker
Sarah is a multi-talented presenter and performer, with a wealth of experience in TV, radio and event presenting, plus children's entertainment, singing, acting and voiceover work.
She is equally at home in front of a TV camera, behind a mic in a radio studio, or in front of a live audience of 10 people or 10,000 people!
She began her radio career back in 1998, broadcasting to the shoppers of the famous London toy store Hamleys.  She quickly progressed into the world of FM radio, presenting her own show across many stations in the UK, including: More Radio, KMFM, Mercury FM, Ocean FM, Century FM, Heat Radio, Juice 107.2.
She's also had the pleasure of interviewing various music artistes, sporting stars & celebrities, including: Robbie Williams, Emma Bunton, Sugababes, Fatboy Slim, Toploader, The Feeling, Stereophonics, Matt Goss, Chris Eubank, to name but a few!
You will see her presenting regularly on shopping TV channel QVC, where she gets to share her love of fashion.  Other TV credits include – Tricky TV for CITV, Wedding TV, Latest TV, Gala TV, ITV's Men & Motors channel, Price Drop TV and a behind the scenes documentary for the A1 Grand Prix.
She also hosts numerous corporate events, sporting events, music festivals, fashion shows & award ceremonies.
When not presenting you can catch her singing in a soul/disco covers band at weddings, corporate events and parties – who knows maybe she's performed at yours?!  Or she is entertaining kids of all ages as has her own children's party and events company.  She also recently made her Musical Theatre debut as the Evil Queen in a production of Shrek the Musical at the Theatre Royal, Brighton.
Sarah is a busy mum to 3 lovely girls and if she gets any spare time likes to go out for a run to get away from all the mayhem!
Her favourite kind of music are soul songs from the 80's, but she also has a passion for Musical Theatre and loves Bruno Mars!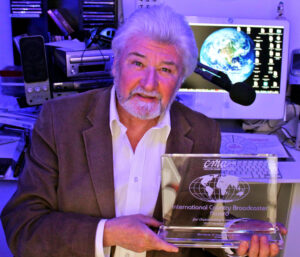 Brian Clough
Brian Clough is now in his 43rd year of broadcasting  country music initially starting on Metro Radio in the North East of England in 1980.
He was awarded the Country Music Association of America's very prestigious honour of International Broadcaster Of The Year in 2009, has duetted on stage with Lyle Lovett, recorded one of his self composed songs with Billie Jo Spears and last year had a song he wrote in 1974 recorded by Californian Bluegrass duo The Smith Sisters and The Sunday Drivers, which reached the Number One spot in the SpinDisc Charts.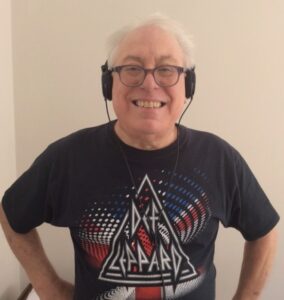 Geoff Dorsett
Geoff is a music jock and 8 times award-winning DJ. He started his music career aged 13 with some local discos and by 18 was working with Mecca Ballrooms opening venues around the UK.
In 1974 he was on air at the opening of commercial radio station Radio Hallam in Sheffield, followed by presenting shifts on other local radio stations in the 80s as well as pirate radio.
Geoff is currently on air every weekday morning at Forest FM (community radio in Dorset), 9-10 a.m. with 'All Our Yesterplays', and Saturday nights 8-9 p.m. with 'The Soul Show'. He also currently syndicates 3 shows: 'Solid Gold 60s', 'Supersonic 70s' and 'A Kick up the 80s' to 101 stations in 25 countries. For the last 15 years, Geoff, along with his producer Adrian Collis, has presented the cult radio programme 'The Soft Rock Show' which ran for many years exclusively on community station Express FM in Portsmouth but is now syndicated across 7 stations internationally. It is a 4 times award-winning show which has sessions, breaks new artists, and covers every genre. It also features interviews from artists from every decade. Altogether, Geoff has interviewed close to 3000 musicians including Sir Cliff Richard, members of The Rolling Stones, Genesis, The Eagles, Queen, Fleetwood Mac, Chicago, Toto, Level 42, and from every decade: Freddy Cannon, Tommy Roe, Marty Wilde, The Searchers, The Hollies, Sweet, Slade, Suzy Quatro, Deep Purple, Yes, The Stranglers, plus many more. In addition, Geoff has also interviewed many songwriters, authors, venue owners and PR companies.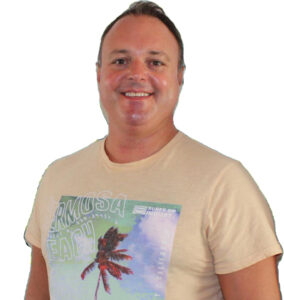 Phil Wilson
Phil has been on air for nearly 30 years playing the hit's across the North East of England and the world, starting the bug for radio from when he was very young at the age of 4 with his Corgi Frisco Disco with microphone and headphones.
Times have never changed as he now hosts Phil Wilson's Vinyl Revival.
Phil brings the world into his fabulous collection of vinyl records, cherry picking the best music from the 60s to the 90s, being chosen not for just a great melody but also to spark a memory and feeling in the listener's ear.
Also on the show he features the Album Of The Week new and old releases, Oddity Of The Week (Novelty Tune) each week as a feature and the Number 1 of the week which may have topped the
Billboard Hot 100 or UKs Official Top 40.
If you would like a shout out or a request please feel free to drop me a message at https://www.facebook.com/vinylrevivalradioshow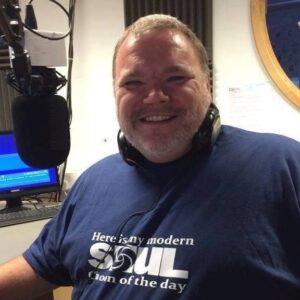 Ady Crampton
Listening to and playing music has always been a large part of my life.
I bought my first vinyl in 1974 aged 7, by 1983 I was immersed in the UK scooter scene and began attending the rallies which boasted ex-Wigan Casino DJs on their all-nighter line-up.
There was so much music that I hadn't heard before and of course, as there was a record bar in each venue, my record collection increased although never as much as my wants list.
I really get a kick out of sharing my passion for music and have enjoyed playing my 70s soul, funk and disco records to the world ever since.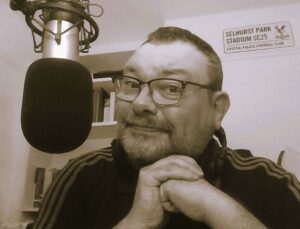 David Cloake
David is a former professional radio presenter who worked in the 1990s for a number of independent radio stations across the UK. His fulltime career has included breakfast and drivetime shows for Northants Radio and Severn Sound in Gloucestershire. He has also presented on a number of other stations including Chiltern Radio, Horizon Radio in Milton Keynes, Galaxy 101 in Bristol, Southern FM in Sussex , Ocean FM in Hampshire and across Europe on Radio Nova International.
David was persuaded by friend to make a return to the microphone with a weekly show called "The Analogue Years", which celebrates the music "pre-digital radio" from the 1960s to the mid 1990s and can be heard Mondays from 6pm.
When not working as a specialist business consultant, David is a big football fan and follows Crystal Palace, regularly watching them home and away. He also loves real ale and can be found checking out local ale houses wherever he goes!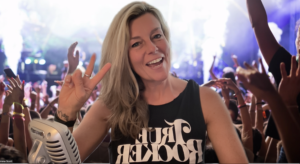 Emma Scott
Emma hosts the Pluggin' Baby Radio Show, Saturday from 9pm here on Real Life Raido, And in her own words, Emma states, "Having worked in the music industry for 35 years, I have radio in my blood" and as the show will epitomise and the music industry can attest to over the past couple of decades or so, the supporting and promoting of new bands and great sounds lies deep in her heart, it all brought forth once more with the fun and passion only rock 'n' roll can inspire.